News
FCC can stay in Hong Kong - if it behaves
Wednesday 30 November 2022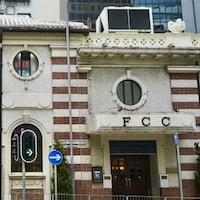 Hong Kong's Foreign Correspondents' Club has secured a new three-year lease for its premises - under new national security terms.
The Club's existing seven-year lease at the 19th century Old Dairy Farm Depot on the corner of Lower Albert Road and Ice House Street ends on 1 January.
A government spokesman said that after careful consideration it had offered the FCC a new tenancy for a fixed term of three years at market rent, starting on 2 January.
The government had been urged to take back the site after the club invited a pro-independence activist to deliver a speech at a lunch in August 2018.
A government spokesman said: "The duration of renewal is in line with the government's new leasing policy of setting the duration of tenancies of all historic buildings let out by the Government Property Agency to not more than three years. This allows a certain degree of flexibility in the use of these historic buildings."
He added that a three-year tenancy also provides "an appropriate duration for the tenant to make arrangements for its operation."
The spokesman said officials have also "introduced standard clauses in the new tenancy to safeguard national security and to sufficiently protect the government's rights and interests."
FCC president Keith Richburg said: "Over the last two years journalists in Hong Kong have been operating under new 'red lines' on what is and is not permissible, but there remain significant areas of uncertainty and we do not wish unintentionally to violate the law."
Controversy broke out in 2018 after Andy Chan Ho-tin, convener of the now-banned Hong Kong National Party, delivered a 20-minute speech at the FCC, saying Hong Kong was facing a "national cleansing".
Tension escalated when the Immigration Department later rejected a work visa extension for Financial Times Asia editor Victor Mallet, who was an FCC first vice-president when he chaired Chan's talk.
Mallet, a former Reuters correspondent, was refused entry to Hong Kong, even as a visitor. ■
SOURCE

SCMP