News
Thomson Reuters opens new HQ in Toronto
Wednesday 10 May 2023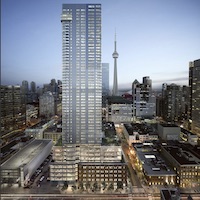 Thomson Reuters has moved into new headquarters in Toronto (photo) which it says will serve as a major product innovation hub for the company.
The building at 19 Duncan Street maintains the historic Southam Press Building's heritage façade but "is purpose-built for the future of work". It's located amongst the company's legal, tax, corporate, government and academic Canadian customers in the city's downtown core.
"It was designed with sustainability in mind and a careful focus on how people, their environment, and technology intersect," the company said. "Guided by the three principles of the Thomson Reuters hybrid work strategy - trust, connection, and flexibility - the new centre offers more dedicated space to foster collaboration.
Features include project team rooms, quiet rooms, wellness rooms, new food and beverage offerings, a three-season outdoor meeting space, and a fitness centre in the adjoining residential tower.
"When planning the design of our new Toronto centre, we took the time to thoughtfully consult with our teammates," said Mary Alice Vuicic, chief people officer. "We concluded that our new centre should prioritise human experience and symbolise our unique culture. Our Toronto centre is an environment that will foster community and the growth of our teammates. We believe this space embodies the future of work - and the future of professionals."
The new centre unites members from the Reuters news bureau, content and editorial teams, sales teams, and other corporate functions teams. It will also house hundreds of technologists, product designers, product managers, and engineers under the leadership of David Wong, chief product officer, and Shawn Malhotra, global head of engineering.
A company announcement said: "With over 30 years of experience innovating with artificial intelligence (AI) and building AI-powered products like Westlaw Precision and Document Intelligence, Thomson Reuters will continue to harness its power in the Toronto centre's product innovation hub. Product, technology, and design teams will work alongside Thomson Reuters customers and provide them with trusted content and technology that professionals and institutions need to make the right decisions.
"Thomson Reuters is one of the largest global technology companies headquartered in Canada," said Wong. "Working alongside members of our global leadership team and our customers at our new Toronto centre, our product, technology, and design teams will have high visibility into our global business and will continue to have great career path choices as they build and deliver the products that power the world's most informed professionals." ■
SOURCE