News
AI to create 'golden age' of news - Reuters boss
Wednesday 12 July 2023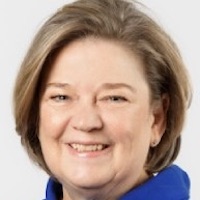 Artificial intelligence will be used to cover some news stories such as financial reports by the end of the year and will create a "golden age" of news, the head of Reuters said.
Sue Brooks (photo), London-based managing director, said she would be "astonished" if it didn't happen, but it was vital that there was "always a human in the loop" to ensure total accuracy.
She spoke to The Times as Reuters introduced a slew of AI features to its services.
She said it was her "gut speaking" when she said AI would be writing some news within six months, and added: "But I would be astonished if not. We're experimenting the whole time. We're reviewing the whole time. We are talking about guidelines and guidance and oversight by editorial people and complete transparency for anything that does involve AI."
AI would create a "golden age" of news, she said "because it's freeing up brain power to be creative and putting all these tools in your toolbox to start up to creating really magical experiences for readers".
Reuters news content will now have automated time-coded transcripts, translation of many languages into English and identification of public figures so that journalists can pinpoint what they need quickly. It will form part of the Reuters Connect service, which is used by newsrooms around the world with more than 600,000 videos, six live streams and 23 million pictures made available from its journalists.
It already uses AI to translate some financial news into different languages which Brooks said "has taken two or three years to develop the models until we were satisfied that they were accurate enough".
"The one thing our 3,000 customers have in common is that what they need from us is speed," Brooks said.
The company has been using AI in some forms for a while, but this update makes the rollout more widespread. "We've had some degree of facial recognition for a while and some degree of shot listing [detailing what happens in a video] and transcriptions," she said. "This is putting it against continuously rolling news so whereas previously it would take 24 hours for it to get processed, this is almost real time."
In May Steve Hasker, chief executive of Reuters News parent Thomson Reuters, said it planned to spend about $100 million a year on artificial intelligence and expects to see generative AI incorporated into its main products in the second half of this year. ■
SOURCE