News
Obituary: Issam Abdallah
Monday 16 October 2023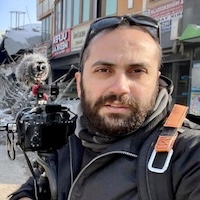 Reuters video journalist Issam Abdallah (photo), killed in southern Lebanon by missiles fired from the direction of Israel, had a reputation among his peers as careful and cautious in difficult environments.
He worked hard to ensure his own safety and that of colleagues while reporting in some of the world's most dangerous places with bravery and insight, Reuters said.
Abdallah, 37, was killed and six other journalists were injured on Friday when missiles fired from the direction of Israel struck them. They were working near Alma al-Shaab, close to the Israel border, to provide a live video signal in southern Lebanon.
Reuters president Paul Bascobert and editor-in-chief Alessandra Galloni, in a joint statement, reiterated requests to the Israeli authorities "for clarity on the rules of engagement and assurances that Reuters journalists and offices in Gaza will not be targeted as part of Israel's military operations."
They urged the Israel Defence Forces to respect and work with the media, including Reuters, to ensure the safety of all journalists reporting in the region.
Reuters said Abdallah brought courage, compassion and insight to his work covering some of the biggest news stories of the past decade.
Whether he was reporting on the war against Islamic State in Syria and Iraq, the Russian invasion of Ukraine, or gun battles on the streets in his native Lebanon, Abdallah excelled at telling the stories of people living through catastrophe, his colleagues recalled.
"I have learned through all the years of covering conflicts and wars with Reuters from around the region that the picture is not only front lines and smoke, but the untold human stories which touch us all inside," he wrote to editors last year after a tough assignment in Ukraine.
Abdallah was nominated as Reuters Video Journalist of the year in 2020 for outstanding coverage of the Beirut port blast, providing the world with some of the first and strongest images of the disaster. He was part of a larger team that won the award in 2022 for their coverage in Ukraine.
"He had a passion to tell the stories he saw unfold in front of his eyes. That passion was the same for a papal visit or covering an earthquake," said Reuters Europe video editor Eleanor Biles.
As Lebanon fell into economic ruin and unending political crisis, it was often Abdallah who cheered the mood in the Reuters Beirut bureau, forging close friendships with colleagues and their families.
He loved to bring colleagues together, often ordering large breakfast spreads for the entire office, and frequently pulling out his camera for a group photo, according to journalists in the Beirut bureau.
Abdallah was buried on Saturday in his hometown of Khiyam in southern Lebanon next to his father who died last year. He is survived by his mother, two brothers and a sister. His body, covered in a Lebanese flag, was carried in a procession attended by hundreds of mourners. Journalists placed their cameras on the grave to honour his memory and prayers were said.
Lebanon's army has said Israel fired the missile that killed Abdallah, and another Reuters reporter at the scene said he was killed by projectiles fired from the direction of Israel. Israel's military has said it will investigate. Reuters called on it to conduct a "thorough, swift and transparent" investigation, and said it was "critically important for journalists to be able to report freely and safely".
Abdallah first began providing Reuters with footage some 16 years ago, working as a freelancer while completing his university studies. "His passion was infectious, his professionalism without question and his humanity a shining light in the darkest places," said Lutfi Abu Aun, foreign affairs news editor at ITN News, who as a Reuters senior producer had hired Abdallah.
That passion was clear to anyone who met him. Abdallah carried a video camera and a camera for still photographs wherever he went, zipping around Beirut on his motorcycle.
For Labib Nasir, Reuters Middle East and North Africa chief visuals producer, Abdallah was at his best covering the chaotic moments after the 2020 Beirut port blast, which devastated much of the city and damaged the Reuters office.
Within minutes of the disorienting explosion Abdallah was providing live video footage while riding his motorbike through dust-filled streets to reach the disaster site, stopping only to interview an injured man along the way.
Upon reaching the port, he gave the world the first view of the city's destroyed grain silos, providing "that backdrop that has become THE view of that story," Nasir said.
"Issam's unfaltering devotion to his work and faith in the power of images shall remain engraved in our memory," said Reuters global foreign policy editor Samia Nakhoul.
"It is through his own live camera feed that the world witnessed the fatal shell that tragically killed him." ■