News
Obituary: Mel Morris
Wednesday 18 October 2023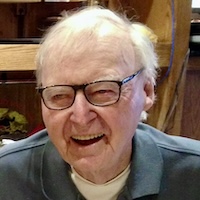 Mel Morris (photo), a Canadian editor who served on Reuters North American Desk in London, died in a Toronto hospital last month. He was 93.
It was almost by fluke that he was hired. During an extended holiday in London in 1957, he and his wife Shirley were sightseeing on Fleet Street. Morris, who had been working at the Canadian Press wire service in Montreal, took a chance and walked into the Reuters building at number 85 to see about getting a job.
He was hired on the spot by Don Ferguson, the Canadian head of Nordesk, Morris said in an interview in 2020.
"Yeah, you can have a job, but you have to start right now," Ferguson told him. "The bureau had been hit by the Asian flu epidemic and was short staffed - decimated - and they were looking for live bodies," Morris said.
Shirley was waiting outdoors on the pavement, and he went down to tell her that she had better go back to Hampstead where they were staying because he was working the nightshift at Reuters.
He worked alongside a team of Nordesk stalwarts including Chuck Frankel, Bill Harcourt, Jack Hartzman, Al Hunter, Dick Lyons, Carl Mollins, George Montgomery, Ed Rosenthal and Larry Thaw. They wrote and edited stories from Britain and elsewhere, cleaning them up and translating them into North American English.
By the time Morris left Reuters in 1962, he was editor in charge of Nordesk. He returned to Canada and worked for the Toronto Star, the former Toronto Telegram and Maclean's magazine. He retired from the Montreal Gazette in 1991, where he served as managing editor for 10 years.
Morris, who was inducted into the Canadian News Hall of Fame in 1998, grew up on a farm in a rural community east of Canada's capital Ottawa, learning to read and write both English and French in a one-room schoolhouse. At Carleton in Ottawa, where he met Shirley, he earned a Bachelor of Journalism in 1952.
From there, he went to Montreal, where he started his career in journalism covering football and rewrote stories for other Canadian media outlets at British United Press.
He is survived by Shirley, his three daughters and six grandchildren. ■