People
Back in Washington: Chrystia Freeland, Canadian whirlwind and Trump critic
Friday 31 August 2018
In one corner, Donald Trump, president of the United States. Opposite, Chrystia Freeland (photo), former Reuters editor now foreign minister of Canada, bidding to strike a deal that can salvage a trade agreement that he derides.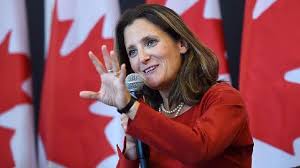 Depicted as tiny, tough and strong, she is the focus of a Financial Times profile that portrays her as a whirlwind storming the world stage.
In June, she delivered a blunt warning from a Washington hotel after a G7 summit: authoritarianism was on the rise; liberal democracy was under threat, and it was unclear which path America would take.
"You may feel today that your size allows you to go mano a mano with your traditional adversaries and be guaranteed to win," she said, in a rebuke of Trump's administration. "But if history tells us one thing, it is that no one nation's pre-eminence is eternal."
This week, Freeland was back in Washington to talk about a North American trade accord known as NAFTA.
"She's a tiny person, with this incredible energy; probably one of the smartest ministers I have ever encountered on a whole range of things. And she's also fearless," said one Canadian official who has worked closely with her. "She's not afraid, in any circumstance, to speak her mind."
In August, that quality got the 50-year-old mother of three into trouble. A diplomatic row exploded between Canada and Saudi Arabia after she called for the release of Samar Badawi, a women's rights activist, triggering fury. Riyadh expelled the Canadian ambassador, froze new commercial deals, and suspended a student exchange programme. Freeland stood her ground, saying human rights would always be a priority.
Previously a journalist with the Financial Times, The Globe and Mail and Reuters. She was a managing director and editor of consumer news when she quit in 2013 to reinvent herself as a pundit and then a politician. She ran for and won a seat in parliament for Justin Trudeau's Liberal party in 2013.
When he took control of the government two years later she became trade minister and led negotiations for an agreement with the EU. In 2017 she was elevated to foreign minister but kept the NAFTA portfolio.
Critics argue her drive to project the values of liberal democracy can get in the way of her country's goals, the FT said. Conservative opposition leaders say her critiques of Trumpism may have played well with the "liberal constituency" and the "Davos consensus" but had hurt Canada. Russia was so irked by Freeland, who served as the FT's Moscow bureau chief, that she is on a list of 12 Canadians barred from entering the country.
"I have a great deal of respect for Chrystia, and know she's been working hard, but she hasn't been working smart," Erin O'Toole, a Conservative party MP and foreign policy spokesman, told the FT. "Our relations with other countries are not a salon series; she's approached them like a book club. I've never seen so many countries upset with Canada."
A common touch combined with lofty rhetoric suggests to some that she has higher ambitions. Her admirers counter that her determined defence of democracy and western values has roots in her early experiences and Ukrainian heritage.
But it could all be for naught if she does not deliver a NAFTA deal that is good for Canada, the FT said. "She's carrying the big file. Canadians are really worried about where NAFTA is going and it's fully understood that [she] is the quarterback," the Canadian official says.  ■