People
Book says two men from Reuters saved the Pope
Thursday 3 August 2017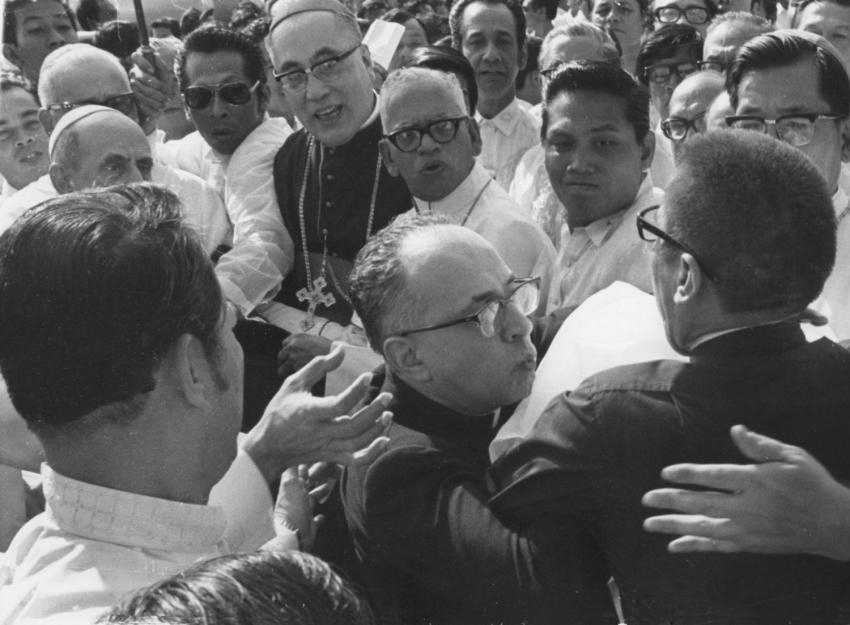 A fact-based Italian novel credits two Reuters correspondents and Philippine President Ferdinand Marcos with saving Pope Paul VI from assassination at Manila International Airport on 27 November 1970.
The book "Wanted. Benjamín Mendoza y Amor. Il pittore che attentò alla vita di Papa Paolo VI" was written by Sergio Campailla and published in 2016.
Here is an excerpt translated from Italian: "A Bolivian artist, Benjamin Mendoza y Amor from La Paz, disguised as a priest, tried to assassinate the Pope with a 12-inch dagger, it is reported from Manila. He failed and wounded Cardinal Stephen Kim of South Korea instead. Credit for the foiled assassination attempt goes to three people: two Reuters correspondents - Ernesto Mendoza (no relation of the assailant) and Alexander Chancellor - and President Ferdinand Marcos of the Philippines who deflected the dagger which was inscribed with some Spanish words including 'mierda'. A British bishop, Reverend Anthony D. Galvin, a six-foot colossus from Sarawak, grabbed the attacker and dragged him away. Philippine security men then took custody of the man who declared: 'I wanted to save humanity from superstition.'
"The Pope was saved by three persons: two Reuters correspondents - a triumph for the news agency - and President Marcos."
Chancellor, who died in January, and I were both in Manila to cover the Pope's visit. I had flown in from Hong Kong where I was based after working in Italy for three years. Chancellor, Reuters' Rome bureau chief, had flown in with the papal press party.
But I was not at the airport. I was in the office monitoring TV and desking the story. Chancellor was at the airport but nowhere near the Pope. Our airport stringer, a defence reporter for a local newspaper and a friend of Reuters' Manila manager Mike Marabut phoned me with news of the incident. He said he believed the assailant was Filipino. When I asked him why he thought so, he said: "I kicked him and he shouted 'aray' (ouch in the Filipino language)."
Luckily I decided to wait for an official statement which identified him as a 35-year-old Bolivian painter. By most accounts it was the Pope's private secretary, Monsignor Pasquale Macchi, and Bishop Galvin who foiled the first papal assassination attempt in modern history. Benjamin Mendoza was reported to have signed a statement in prison saying it was President Marcos who stopped him with a karate chop but this version did not gain much credence.
---
PHOTO The Pope's private secretary pushes the would-be assassin (right) away. ■