People
Chrystia Freeland quits Reuters for Toronto politics
Saturday 27 July 2013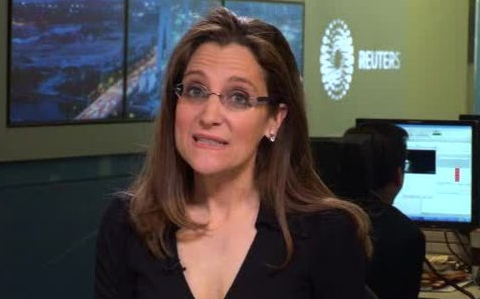 Chrystia Freeland, one Reuters' highest-profile editors during three years with the agency, has quit to try her hand at political life in Toronto. Freeland, 44, will seek a nomination for a forthcoming by-election in the downtown district of Toronto Centre.
She is moving to Toronto from New York, where she was a managing director and editor of consumer news, Canada's national newspaper The Globe and Mail reported on Saturday.
Freeland has written extensively about growing income disparities around the world and would bring expertise on the plight of the modern middle class, it said. "That theme has been at the heart of Justin Trudeau's message since he took over the Liberal Party in April, in part with Ms. Freeland's behind-the-scenes input."
"In my writing, my reporting and my thinking, I have come to feel that there is a really great challenge that the world and Canada faces, which is figuring out how to make the 21st century work for the middle class," she said in an interview with the newspaper. "I want to try to be a part of a team that does something about that, and that is 100 per cent the core of my motivation."
Trudeau and Freeland, who was born and raised in Alberta, recently met for breakfast in Ottawa and he invited her to consider a foray into active politics, the newspaper said. The pair had been discussing policy issues in the preceding months.
"I'm taking a risk, and I'm ready to compete and to fight, and I think that is the way it should be," she said.
Freeland joined Reuters in March 2010 from the Financial Times, where she was US managing editor. She became global editor-at-large, a newly-created position in which she helped plan editorial strategy, reporting to then editor-in-chief David Schlesinger. Later she became editor, Thomson Reuters Digital.
Freeland is the author of Sale of the Century: The Inside Story of the Second Russian Revolution, published in 2000, and Plutocrats: The Rise of the New Global Super-Rich and the Fall of Everyone Else published in 2012. ■