People
Could Germany have a Jewish chancellor?
Wednesday 31 July 2013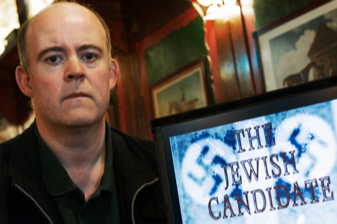 Although the 11 September 2001 attacks in America drowned out concerns in Europe about racist attacks by neo-Nazis and put the focus squarely on Islamists, everyday violence against immigrants in Germany went on, to the extent that parts of the former communist east became no-go zones for foreigners.
David Crossland (photo)​, who started writing about the far right when he moved to Berlin in 2001 as Reuters chief political correspondent, recalls: "In 2003 I wrote a story for Reuters pegged to the racism encountered by an asylum-seeker from Cameroon who had grown accustomed to people making ape noises as he walked past. He described the town of Potsdam near Berlin, where he lived, as a 'battleground' if you were black. Even back then, analysts and campaigners were warning that the far right was being underestimated and had become a terrorist threat."
They were ignored, but have been proved right by the case of the National Socialist Underground group that came to trial in May this year. A trio of neo-Nazis shot dead nine immigrants and one German policewoman in a killing spree from 2000 to 2007. It only came to light by chance in 2011 after police had steadfastly ruled out a racist motive.
Now Crossland has written a novel, The Jewish Candidate, a political thriller about a neo-Nazi plot to kill Germany's fictional first Jewish politician to run for chancellor. It is set against the real backdrop of the resurgent far-right scene, and is based on his reporting over the last 10 years.
Reuters and a number of other media have written about the book because it poses the question whether Germany is ready for a Jewish leader and because it coincided with the start of the NSU trial.
"I decided to start writing the book in 2007 because I wanted to draw attention to the problem. I hope my knowledge of and affection for Germany comes through despite the graphic violence and the underlying message."
Crossland, 46, was born in Bonn, then capital of West Germany, where his father worked as correspondent first for The Guardian and then The Economist. He joined Reuters in Frankfurt in 1994 after "happily defecting from Bloomberg".
"I covered bond markets, banking and finance in Frankfurt between 1994 and 2001. During that time my only scoop resulted from a press release that a bank accidentally sent us a day early. The Bloomberg correspondent was green with envy that day. I refused to divulge my sources."
Since 2004 he has freelanced for a succession of newspapers including The Times and The Sunday Times and currently works for Spiegel Online and The National. ■