People
Ex-GM's Riviera book presented to Prince Charles
Wednesday 16 May 2018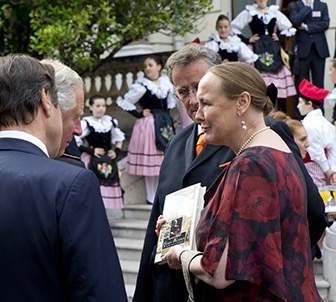 Fenella Holt, owner of the Antibes English Language Bookshop, presents Prince Charles with a copy of Queen Victoria and the Discovery of the Riviera by Reuters' former general manager Michael Nelson, in Nice on 7 May.
The book, published by IB Tauris in 2001, recounts the arrival for the first time on the French Riviera of the prince's great-great-great-grandmother, then 62, in the Spring of 1882.
Victoria visited to the Riviera nine times, more often than to any other part of continental Europe. As she was dying in 1901, she said: "Oh, if only I were at Nice, I should recover."
Her visits affirmed and strengthened the Riviera's role as the leading holiday centre for the British, for other Europeans and the peoples of the Americas.
The book relates the places where the Queen stayed and visited. Many hotels, cafes and roads in the area were named after her.
Illustrations include reproductions of anti-British French postcards, with one of the Queen riding on a bottle of gin, extravagant Belle Epoque posters and drawings of her activities.
---