People
A fistful of China hands
Tuesday 24 April 2018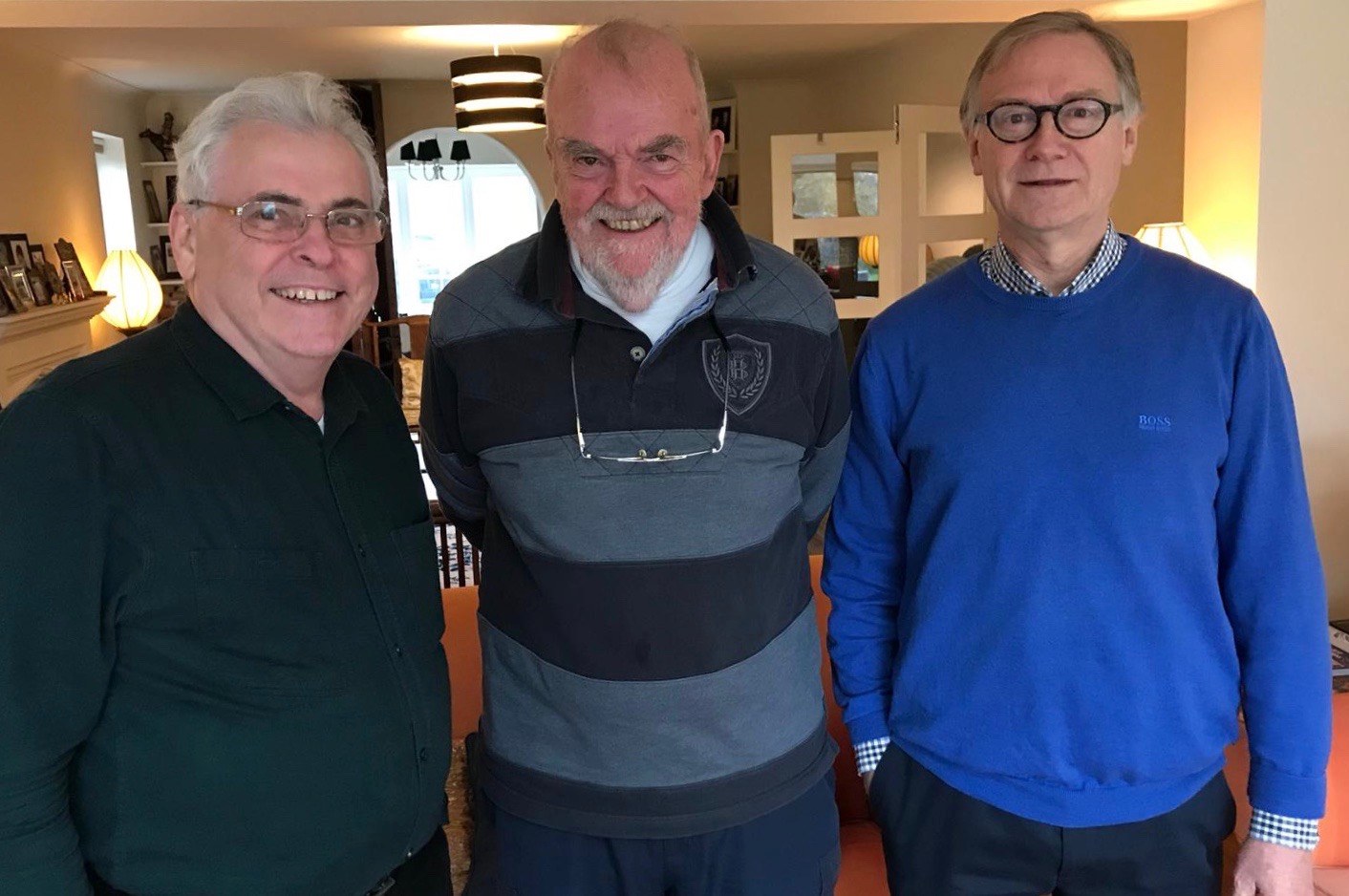 Three of Reuters' old China hands recently reconnected and reflected upon their early days in the Beijing bureau.
Jonathan Sharp, Richard Pascoe and Peter Humphrey met in the English Midlands town of Oundle, where Pascoe recently retired.
"All three of us were in same office in Ban Gong Lou in the diplomatic compound when Richard and I were correspondents and Peter was a student," said Sharp, recalling that they referred to themselves as a fistful of China hands.
"A key fourth member of the so-called fistful in Ban Gong Lou at that time was Michael Rank, who sadly passed away last year," said Pascoe.
Sharp, who graduated from Leeds University in Chinese studies in 1967, and now a long-term Hong Kong resident, is arguably the most-seasoned of the three hands that met recently, having been the first Reuters correspondent sent to China after the release of Anthony Grey, the bureau chief taken hostage by the Red Guards during the Cultural Revolution in 1967 and set free in 1969.
Sharp went to Beijing in April-May 1971 to cover the so-called ping pong diplomacy between China and the United States. He later served as bureau chief in 1972-74 after James Pringle, and was joined there by Tim Pearce. "Jonathan was the first of our staff to serve twice as the bureau chief when he was posted there again in 1981-82," said Pascoe.
"No one was there after Grey's release until Reuters got a visa again, which was given to me in 1971, initially for just three weeks for ping pong diplomacy. Jim then re-opened the bureau in September 1971," said Sharp. He was joined in early 1972 by Peter Gregson, who left China in December that year to get married, which was when Sharp joined Pringle in the bureau.
Pascoe, a 1976 Leeds Chinese graduate, and Rank studied at Beijing University in 1974-75 as the Cultural Revolution was drawing towards its end. Pascoe served as a Beijing correspondent in 1980-1983, manager Taiwan 1988-94, and manager China, Mongolia and North Korea from 1994 to 1998. Later he left Reuters to set up the China Policy Institute at the University of Nottingham which he led through 2004-2010, becoming director of the Great Britain China Centre through 2012-17.
Humphrey graduated in Chinese at Durham University in 1979 and moved to Beijing as a British Council exchange scholar. The then Reuters bureau chief Ian Mackenzie, shortly before moving out, picked up Humphrey as an intern who worked with the "fistful".
"I was at the Beijing Languages Institute to study and teach but I moonlighted for the bureau, monitoring local newspapers, clipping and filing," said Humphrey. "A couple of years later Richard was my sponsor to join the Reuters mainstream as a graduate trainee," he said.
"Richard and Jonathan have been mentors to me throughout my career. I am very grateful. But ironically I eventually spent more time for Reuters in Eastern Europe and the Balkans than in China, and ended my China career in a Shanghai prison."
Humphrey returned to China in 1995 after a stint at Harvard, serving as deputy bureau chief in Hong Kong until 1998 when he became China manager of the Wall Street sleuthing firm, Kroll Associates, based in Beijing, and later directed an investigations department of PwC China. He set up his own risk management firm ChinaWhys in 2003, which he ran successfully until 2013 when the Shanghai authorities shut it down and imprisoned him and his wife for two years as collateral damage in a widely publicised case related to the Anglo-American pharmaceutical giant GSK's China bribery scandal. He has now returned to sinology and is a fellow of King's College London and Harvard University.
"Actually, there are many other old China fistfullers who we should bring together one day, such as Adam Kellet-Long and Vergil Berger (Tony Grey's predecessor)," said Sharp.
"We really ought to have a 'China Hands' gathering organised by the Reuter Society at some point, including the long list of others who are around," said Pascoe.
There are many other China hands and Beijing bureau chiefs who lived in interesting times - David Rogers, Guy Dinmore and Jane Macartney who scooped China's national news agency on the death of Deng Xiaoping in 1997.
---
PHOTO (L-R): Peter Humphrey, Jonathan Sharp and Richard Pascoe at Pascoe's home in Oundle, Northamptonshire - April 2018. ■