People
Pascal Fletcher 'irritated' Fidel Castro and now, it seems, David Thomson
Saturday 29 November 2014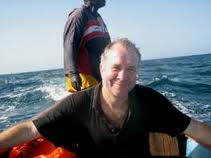 Reuters journalists bade a sad farewell to Africa bureau chief Pascal Fletcher (photo) on Friday when he left the company 32 years after joining as a graduate trainee.
A well-placed source said it was widely believed by editorial staff that his sudden departure was a consequence of pointed questions he put to David Thomson during a recent visit to Johannesburg by the chairman of Reuters' parent company, Thomson Reuters.
The questions, posed at a meeting for staff to meet Reuters' ultimate majority owner, concerned editorial priorities and resources assigned to cover Africa. Thomson appeared not to have been briefed on the subject and was taken aback, the source said.
Announcing Fletcher's departure, Richard Mably, regional editor for Europe, the Middle East and Africa, said his work ethic in serving Reuters across sub-Saharan Africa and Latin America "is nigh-on legendary. As all of you who have worked with him over the years will have witnessed, Pascal made the most of his considerable natural talent by being the most conscientious and dedicated of colleagues".
Fletcher had not wasted much time in London, Mably noted.
"His career took him to Madrid and then Lisbon in 1984 and before long he was southern Africa correspondent based in Luanda, covering wars in Mozambique and Angola, Cuba's Angolan withdrawal and the ANC in exile. He spent most of the 1990s in Havana for Reuters and then for the Financial Times, irritating Fidel Castro sufficiently to be vilified by the Cuban press as 'Pinnochio Fletcher' and 'a poisonous intriguer against the revolution'. Not many correspondents get a two-hour state TV programme dedicated to their alleged mendacity but, to his credit, Pascal managed it in Cuba. Undaunted, he rejoined Reuters from the FT in 2001 for the dubious pleasure of covering Venezuela's Hugo Chavez in his pomp, possibly the only world leader able to outdo Castro when it came to long-winded speechifying. Assignments followed running West and Central Africa and the Southeast U.S./Caribbean. Pascal has lost count of the coups and uprisings he's handled. His West Africa team covered one just this month in Burkina Faso. Typically, the file he led shone by being fast and accurate and in greater depth and insight on regional significance than anything the competition could offer. Pascal was a worthy winner of the 2012 Reuters Baron Award for his leadership of the Africa file."
Matthew Tostevin, a former correspondent in Africa now general manager, television, UKI and Nordics, also wished Fletcher well and said it was "A sad day indeed. The Africa file has been much strengthened under Pascal's leadership and thanks to his immensely hard work."
In a farewell note to colleagues, Fletcher refrained from saying anything about the circumstances of his severance from Reuters and wrote: "No book, no Pulitzer, no regrets - OK, maybe some."
He went on: "I was lucky to be initiated in the Reuters London Fleet Street crucible. George Short infused me with his Poop Deck view of Reuters (happy to explain to those who don't know it), I was toughened by the tender administrations of the barking Sarge [Allan Barker] (who thought I was a 'bit quiet') and I thirstily sucked up the tips and tidbits of experience tossed out by the London Desk's fearsome Four Horsemen. This launched me on a foreign correspondent's career which has never really stood still and kept me in the field and off the desks for 32 years (don't ask me how I managed that). I've really been able to live out a dream, doing what I wanted to do, something I must be - and am – truly grateful for."
He thanked colleagues "for your lessons, your advice, your support, your comradeship, your shared belief in the mission" and added: "For me, Reuters has always been the greatest news organisation in the world - long may it remain so!" ■