People
Sophie Walker takes on women's equality role - a first in British politics
Friday 24 July 2015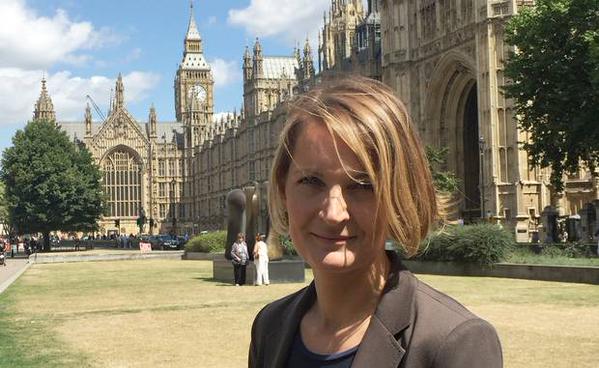 Sophie Walker (photo), a Reuters journalist for ten years, has become leader of Britain's first feminist political party.
The Women's Equality Party (WEP) calls itself "a new non-partisan force in British politics uniting people of diverse ages, backgrounds, ethnicities, beliefs and experiences in the shared determination to see women enjoy the same rights and opportunities as men so that all can flourish".
"We're called the Women's Equality Party, and we're on a fantastic political adventure with a serious goal: We're going to put equality for everyone back on the agenda and shine a spotlight on what needs to be fixed - fast," she wrote on her blog.
Acclaimed as the fastest growing political party in the UK, the WEP was founded by broadcaster Sandi Toksvig - hitherto its public face - and journalist Catherine Mayer - its president - in March as politicians geared up for a general election which resulted in women making up 30 per cent of members of parliament.
Walker, pictured outside the houses of parliament, was chosen to lead the party through its formation phase ahead of a leadership election by the members next year.
Walker's journalistic assignments at Reuters included Washington and London where she was a top news editor for the past year.
The party's official launch is set for September. Its goals are: Equal representation in politics and business, equal representation in education, equal pay, equal treatment of women in the media, equal parenting rights, an end to violence against women.
"A lifetime of experiences made we want to do this', she said. "I realised the other day that I'm having exactly the same conversations with my friends that my mother was having with her friends in the Seventies. I look at my daughters (age 13 and 6) and think I really don't want them to be the third generation having those conversations.
"But it's already happening. My youngest girl loves science and superheroes, but is constantly made to feel they're not appropriate for her gender. My eldest daughter has to navigate a highly sexualised environment because lad culture is rife in schools and girls are under pressure to look and behave a certain way," she told The Daily Telegraph.
Her eldest daughter Grace, 13 is autistic. Walker is an ambassador for the National Autistic Society and a patron of charity Ambitious About Autism's Treehouse school. She has written a book, Grace Under Pressure: Going The Distance as an Asperger's Mum, about the experience of raising an autistic child. ■