Archives
Frederick Forsyth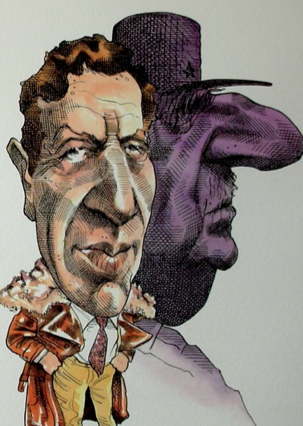 Would Frederick Forsyth have become a best-selling author if he had never worked for Reuters? What is sure is that inspiration for the novel that made him famous sprang from what he learned as a Reuter correspondent.
Forsyth joined Reuters in December 1961, when he was 23, well qualified in languages - French, German, Spanish and some Russian - and by nature ready for anything.
He wanted to be a foreign correspondent and had spent three years learning journalism on the Eastern Daily Press. Before that he had wanted to be a fighter pilot and earned his wings in Britain's Royal Air Force.
Forsyth's genius as an author has been to use contemporary facts, presented with accuracy and meticulous detail, to clothe his fiction in the garb of reality.
In this way he hit the jackpot with The Day of the Jackal, a gripping tale about an abortive attempt to kill General de Gaulle.
The background for this was borrowed from a bizarre period in French history when de Gaulle was in power and assassination plots abounded.
Forsyth was in Paris as a Reuter correspondent at the time. Bombings, shootings and bank holdups by the Secret Army Organisation, the OAS, were everyday news.
There was plenty of good material for a novel and plenty of truth that was stranger than fiction. When he wrote The Day of the Jackal, six years later, Forsyth had the nerve and the skill to mingle the two, weaving real people and places into the imaginery tale in a formula that has stayed with him ever since and made him a millionaire.
If Paris had qualms about their welcome for a newcomer they were wasted. Action was what Forsyth loved
Forsyth had been with Reuters six months when he was sent as a correspondent to Paris. Telephoning from Orly Airport to find out how to reach the office he got the reply: "Don't bother about that. Dump your luggage somewhere and get down to the Rhone Valley. We need someone quickly at a train crash there."
If Paris had qualms about their welcome for a newcomer they were wasted. Action was what Forsyth loved and his next call was with action copy and interviews from Bollene, southern France, where he worked all night on the crash story.
Two spells in Paris were separated by 10 months in East Berlin, a posting that involved reporting trips to Prague and Budapest.
Germany provided the themes for The Odessa File, about a fictional hunt for a real war criminal who, Forsyth said, was welcome to turn up and sue him.
Forsyth left Reuters in 1965 to join the BBC, then tried freelancing for two years, reporting the Biafran side of the Nigerian civil war.
He wrote The Day of the Jackal in 35 days in early 1970 because he was hard up, and has never looked back since. But at heart he is still a reporter, and this shows in his books.
So far Forsyth has written six novels and a collection of short stories. The success of the film versions of his work induced him to link up with film actor Michael Caine as executive producer of the film The Fourth Protocol, his latest book. He also wrote the screenplay.
---
First published in Reuters World No. 52 May 1988 ■