News
Reuters News seeks to mitigate possible fallout from data deal
Saturday 24 March 2018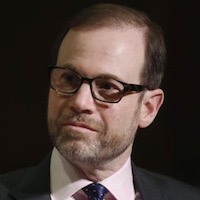 Reuters News works without regard to unrelated business conducted by any part of Thomson Reuters, editor-in-chief Stephen Adler (photo) said in response to concerns about a division working for the US Department of Homeland Security.
He was responding to questions raised in a letter by Rodney Pinder, a former Reuters correspondent who was director of the International News Safety Institute (INSI), a charity that helps news media staff survive hostile environments.
Pinder expressed dismay over a contract between Thomson Reuters Special Services (TRSS) and Homeland Security to track illegal aliens in the United States which he said "on the face of it, associates Reuters good name with government spying".
His letter reflected many similar concerns raised on The Baron and on social media by retired Reuters journalists.
They fear the deal will undercut Reuters' global reputation for integrity, independence and freedom from bias in news and may place its journalists around the world in grave danger.
Pinder specifically asked whether information gathered by Thomson Reuters journalists will find its way, directly or indirectly, into the TRSS database and hence to Homeland Security's Immigration and Customs Enforcement arm.
Adler responded: "I share your deep concern for the safety and security of Reuters journalists world-wide. Just to clarify: TRSS is a business within Thomson Reuters that is entirely separate from Reuters News. Reuters News is committed, under the Trust Principles, to 'integrity, independence and freedom from bias,' and does its work without regard to unrelated business conducted by any part of our parent company. None of our unpublished work, notes, or sources are available to anyone, inside or outside the company. My team and I closely monitor all possible challenges to our journalists' safety and defend their freedom to report anywhere in the world." ■