News
Thomson Reuters on acquisition trail with F&R proceeds
Wednesday 8 August 2018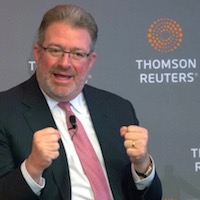 Thomson Reuters is thinking about acquisition opportunities when it uses some of the money from the sale of a controlling stake in its financial and risk business.
It expects to use $1 billion to $3 billion from the proceeds to make acquisitions in its legal and accounting division.
"There are a couple that look quite interesting to us and we'll continue to evaluate them," chief executive James Smith (photo) said in an interview with Reuters after reporting its latest quarterly earnings, adding that the firm was "not going to let the money burn a hole in our pockets."
Thomson Reuters is selling a 55 per cent stake in F&R, which provides data and news primarily to financial customers, to private equity firm Blackstone. It expects to complete the $20 billion deal in the fourth quarter when the new business will be branded Refinitiv.
Smith told analysts on a conference call the closure will clear the path for expansion.
"Following the closure of the deal with Blackstone, Thomson Reuters will be in a position to play offence," he said. ■
SOURCE