News
100+ Thomson Reuters redundancies in Geneva
Monday 3 December 2018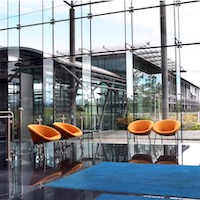 Some 108 employees of Thomson Reuters in Geneva have been made redundant as a result of Refinitiv's takeover of the company's financial information business, according to Tribune de Genève newspaper.
In a recent report, the newspaper said a further 23 external workers had also been laid off. It quoted Valérie Kirschmann, president of Reuters International Holdings in Geneva and of Thomson Reuters (Markets), as saying 70 employees would continue in the former Reuters office on the outskirts of Geneva (photo), almost all working for companies linked to Refinitiv. A few dozen other Thomson Reuters employees not taken over by Refinitiv - mostly in tax, accountancy and legal - are being relocated to offices in the city of Geneva.
The redundancies are being phased until end-December 2019, with severance terms of up to 18 months of salary, the newspaper reported.
The two large office blocks and a data centre covering 20,000 square metres on four hectares of land amid fields near Lake Geneva were built by Reuters in the late 1990s, and according to the Tribune at one time housed more than 700 employees. In its first years, it was the headquarters of Reuters Europe, Middle East and Africa.
The premises were sold last June for 27 million Swiss francs to two Geneva investors, Wahbé Tamari and Yarom Ophir, the newspaper added.  ■
SOURCE

Tribune de Genève