News
Obituary: Jean-Paul Couret
Tuesday 2 February 2021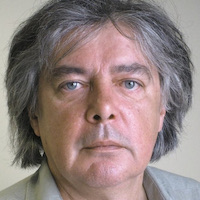 Jean-Paul Couret, who died on 29 January at the age of 67, was a man of many passions.
A hot-blooded Frenchman from the exuberant southwest of the country among sometimes aloof British colleagues, he never shied away from a heated debate but always for the sake of those passions, one of which - oddly enough - was Reuters itself, François Thomazeau writes.
In 36 years with the agency, from his debut as a sub-editor on the French Desk in London to heading the French-language general news service in Paris, Jean-Paul was often approached by quality newspapers offering glamorous jobs as a political columnist. But he always turned them down, choosing to spend his entire journalistic career at Reuters.
Outside work in the cafés around various Paris office locations, (Le Bouge, le Mad-Bas, le Beaujolais Drouot, le Laffitte to name but a few), Jean-Paul would talk fondly, passionately of the Baron as he would of a family member with whom he had sometimes fierce disagreements, but a deeply rooted attachment.
An anglophile born in the rugby union stronghold of Ariege in the foothills of the Pyrenees - and a top flight scrum-half in his teens in his hometown of Saverdun - Jean-Paul began his career at Reuters in the late 70s in London, where he met his wife Jill.
Working with the pioneers of Reuters French Service, François Duriaud and Loic Even, at 85 Fleet Street, he moved to Paris with the French Desk and was appointed head of the burgeoning French General News reporting unit, which ended up with permanent correspondents at the Elysée Palace and the Prime Minister's office in Matignon. Under Jean-Paul's guidance, Reuters French services gave the much larger state-funded news agency AFP a hard time. Long described as l'agence britannique, Reuters became a household name in the world of French media.
Jean-Paul set up a network of French stringers, some of whom still work for the company to this day. A French-language sports service was also launched, and rugby enthusiast Jean-Paul ended his Reuters career there in 2014.
Aside from rugby, literature and politics - he was a life-long admirer of François Mitterrand and wrote a vibrant and compelling obituary of the former president when he died in 1996 - art was another of Jean-Paul's passions.
He achieved a childhood dream when he returned to Ariege to open an art gallery, La Galerie Cachée, in the picturesque little town of Mirepoix. It was quite successful but sadly his health slowly deteriorated.
Jean-Paul is survived by wife Jill and his son Sebastian. ■