News
Thomson Reuters main New York office to undergo revamp
Monday 5 April 2021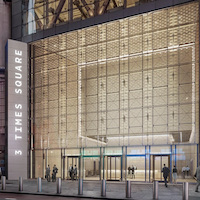 Three Times Square, opened in 2001 as Reuters North American headquarters, is to undergo a $25 million revamp.
The work includes a glass-walled, triple-height lobby (photo) and a touchless-entry destination elevator system.
Thomson Reuters, whose headquarters are now in Toronto, still has some space in the building at what New Yorkers call the crossroads of the world. The firm is also a joint-venture ownership partner with the 30-storey tower's principal owner, but is reportedly considering a sale of its stake, according to the New York Post.
"The estimated $25 million project comes as 3 TS faces the departures of several large tenants over the next 12 months that will leave its entire 850,000 square feet to be refilled," it said.
Several tenants and subtenants are due to exit over the next 12 months. The Post did not say whether Thomson Reuters would be leaving the building. ■
SOURCE