News
Reuters appoints Gina Chua as executive editor
Wednesday 21 April 2021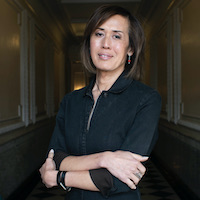 Gina Chua (photo), Reuters global managing editor of operations, is appointed immediately as executive editor, a newly-created role.
Alessandra Galloni, who became London-based editor-in-chief on Monday, told staff Chua will remain based in New York and report to her.
Galloni and Chua were said to be internal front-runners for the top editorial job when Stephen Adler's April retirement as editor-in-chief was announced in January.
Chua, who announced in January she was transgender, will continue to oversee editorial operations, budgets, administration, safety and security, and will also be responsible for leading technology initiatives around new forms of reporting, broadening Reuters' file and delivering more relevant reporting to new and existing customers.
Born in Singapore as Reginald Chua, she joined Reuters ten years ago.
"Over the last decade at Reuters, Gina has been instrumental in the creation of world-class data and graphics teams, built an industry-leading safety, security and mental health system and driven development of a range of new newsroom tools," Galloni told staff. "I'm delighted to work with her as we further modernize our newsroom."
Chua said: "I'm excited to take on this new role supporting Alessandra and the newsroom to continue producing outstanding journalism, modernize our capabilities, and grow our audience and businesses. We stand poised at the edge of multiple opportunities to expand the reach of our journalists and journalism."
Chua was previously editor-in-chief of the South China Morning Post and The Asian Wall Street Journal/The Wall Street Journal Asia. She was a senior editor at The Wall Street Journal in New York; a reporter in Singapore, Manila and Hanoi; and a television and radio journalist in Singapore.
A Reuters announcement said: "Gina transitioned in late 2020, making her one of the most senior transgender journalists in the industry." ■
SOURCE