News
Ex-Reuters journalist settles China bribe lawsuit
Monday 14 March 2022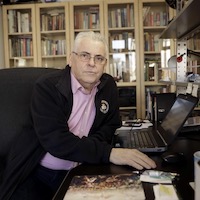 Former Reuters correspondent Peter Humphrey (photo) and his wife Yu Yingzeng have ended a US lawsuit over their jailing in China in a long-running corporate bribery case.
A court in Shanghai convicted them in August 2014 for illegally purchasing personal information on Chinese citizens in the course of an investigation. Humphrey was sentenced to two and a half years in prison and Yu to two years. Both were released early in 2015.
The two former corporate investigators' lawsuit against drugs company GlaxoSmithKline was discontinued in the courts of Pennsylvania after a confidential agreement was reached, ending a protracted legal battle.
China fined Glaxo about £300 million after being found guilty of paying bribes to boost sales of medical products.
Humphrey and his wife had alleged that when Glaxo approached them in April 2013 to investigate Vivian Shi, a whistleblower who was the head of government affairs for Glaxo China, it lied and said the whistleblower's claims of corruption at Glaxo's China business were false.
They claim that Glaxo failed to inform them that "Shi had powerful unidentified allies within the Communist Party elite in Shanghai and that it was therefore extremely dangerous to investigate her".
Their investigative report was submitted to Glaxo in June 2013 and the following month GSK's CEO in China, Mark Reilly, allegedly told Humphrey that Shi had "read your report and she will be coming after you". A week later police raided his home and office.
Humphrey said: "My wife Ying, our young son Harvey, and I have suffered enormously at the hands of members of the Chinese regime from this traumatic ordeal, and I have had to battle cancer and PTSD as a result of our mistreatment and abuse in its jails. But this is not just about us. I would remind everybody that of all the millions of prisoners in China's jails and camps today, there is not a single one who has ever undergone a fair and transparent trial. I am working for them as well as for my family and myself.
"To that end, I filed a detailed confidential complaint report to the Chinese government in Beijing, which they have chosen so far to ignore."
In 2017, in an assessment of their ordeal, a British judge declared it to be a case of arbitrary detention and ruled that Humphrey and his wife were never "involved in any form of criminal activity whatsoever" and that the actions of the Chinese authorities were politically motivated.
"Such exonerations as I have thus far obtained have provided us with a degree of assurance and relief and an affirmation of dignity but there is still much to fight for," Humphrey said.
"I fully intend to continue pursuing the wrongs committed against us by the Chinese judicial system and the corrupt Communist Party officials who persecuted us without any legal basis, simply abusing their power to serve their own ends."
A spokesman for Glaxo said: "The matter has been resolved to the satisfaction of all parties." ■
SOURCE