News
Obituary: Chris Matthews
Monday 28 November 2022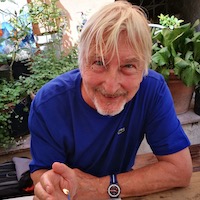 Chris Matthews (photo), who has died in Italy at the age of 79, was a gifted writer and editor and one of Reuters most unorthodox bureau chiefs.
After postings in Brussels, Paris and the London desk, Matthews, the godson of novelist Graham Greene, was sent to head the Rome bureau in 1973.
He had limited respect for Reuters hierarchy and little interest in formal office routines or organisation, but he was respected for his graceful writing style and reporting skills. His languid, often sardonic exterior hid a commitment to quality journalism and loyalty to his staff, writes Barry Moody, who was a staffer in Rome at the time.
Tall, with long blond hair and a sense of fun marked by a frequent infectious laugh, he inherited his striking good looks and charisma from his famously beautiful Russian mother, and quickly became an enthusiastic participant in Rome's dolce vita.
Nick Parsons, another correspondent in Rome at the time, said he was "a charismatic, mercurial character who greatly enjoyed Rome's nightlife, and was less interested in the mundane trivia of office life - skeds, for example. His legendary extra-curricular life meant that he was not always at his best in the morning. But when the occasion demanded, he always produced - rapidly, accurately, and stylishly.
"I remember his coverage of the Friuli earthquake (1976), for example. After it struck, he had no hesitation in getting into the car and driving north through the night. His despatches were colourful, full of human interest and very moving."
The trendy parties thrown by Matthews and his partner Lydia Miniero in their flat in Rome's historic centre were attended by celebrities, especially from the cinema, including director Bernardo Bertolucci. He made friends with well-known Italians, including Enzo Ferrari, founder of the prestigious super car company.
He was spotted on the nightlife circuit by iconic film director Federico Fellini, who was always on the lookout for distinctive-looking people.
Fellini gave him a small role as a French fop in a banquet scene in his film Casanova starring Donald Sutherland. Matthews headed off to the Cinecitta film studios and told the bureau that if anybody called from headquarters, we should say he was interviewing Fellini, Moody writes.
However, he hadn't counted on how long it took to film scenes at Cinecitta - Fellini was a perfectionist who required scores of takes before he was satisfied. Matthews expected to be away for a couple of days, but to his mounting frustration it ended up being more than a week for a scene in which he said only: "C'est extraordinaire." We found ourselves telling London editors on several occasions: "Yes, he is STILL interviewing Fellini."
A correspondent from one of the US news magazines went to do a real interview with Fellini and recounted his astonishment when he realised the nobleman in powdered wig and 18th Century dress who he passed on the set was the Reuters bureau chief.
Ironically for someone who was so disrespectful of authority, it fell to Matthews to host a visit by the Reuters board to Rome and other parts of Italy in 1973. Robin Lustig, also a correspondent in Rome at the time, recounted in his memoir "Is Anything Happening?" that the board members were a "crusty medley of elderly newspaper owners and executives" who were taken aback at Matthews's bohemian appearance. The chairman of the board, Sir William Barnetson, Scottish head of the United Newspapers group, was unimpressed with the shoulder "man bag" that Matthews carried everywhere. "I like your handbag laddie" he said sarcastically. Matthews promptly bought him an identical bag and presented it to him as a gift, "because you liked it so much", Lustig relates.
Nevertheless, Matthews did the group proud, organising an extensive visit which included being presented both to Pope Paul VI and Italian President Giovanni Leone.
The latter made several of them, including Matthews, Knights of the Italian Republic, a prestigious honour in Italy but something he never mentioned, said Marcy Valentini, his close friend for two decades. "Italians would have talked about that everywhere, Chris not at all. But that was the way he was," she said.
Valentini said Matthews, a fanatical tennis player, could talk as easily to tramps as aristocrats. "Like his mother he had a natural and charismatic charm."
Matthews resigned from Reuters in 1976. He told friends and family that he had done this to take responsibility for a serious reporting error made by a junior staffer, something not made public at the time.
Matthews then embarked on a varied career that included working for several years as a freelance correspondent for Readers Digest, Newsweek and the International Herald Tribune and running a fashion knitwear company with his second wife Lydia. Devastated by her death from septicaemia contracted in hospital in 2001, he later opened an upmarket restaurant called Coccodrillo (Crocodile) in the fashionable Via Giulia, something that she had wanted. It attracted expats and international celebrities but eventually went bust because of a lack of local custom.
Matthews then became a freelance writer and editor for the United Nations Food and Agricultural Organization (FAO) and IFAD (International Fund for Agricultural Development). He also wrote speeches for the FAO director-general and translated into English speeches by the Italian president.
Colleagues at the UN said he was a much-respected mentor for young journalists and had a powerful influence in improving the presentation of articles to cut through bureaucratic and technical verbiage so that they were widely used in international media. His own stories on camel milk production and edible insects are still remembered as standouts.
George Kouros, who worked with Matthews at FAO said: "His daily attire of khaki cargo pants, a sports hoodie and green Converse high tops marked him out as outside the stuffy FAO norm. But his wit and brio and his skill with the written and spoken word stood out just as clearly. He was widely respected by all who worked with him."
Chris was the son of Ronald Matthews, a Daily Herald reporter in Moscow during the Second World War and a friend at Oxford University of Graham Greene, who he asked to be his son's godfather. Ronald Matthews married Tanya, his translator and Chris was born in Moscow. Ronald moved on to work as a correspondent for the Herald and the BBC in Paris, Iran and finally in Tunisia. Tanya carried on as the highly respected BBC correspondent in Tunis for nearly four decades after Ronald died in 1963.
Matthews married his Colombian third wife when he was 76. He died from a brain tumour at his home in Grottaferrata, in the Alban Hills outside Rome, in October. He is survived by his first and third wives, two daughters, a son and eight grandchildren. ■