News
'The world is in your debt' - editor-in-chief to Reuters journalists
Monday 13 November 2023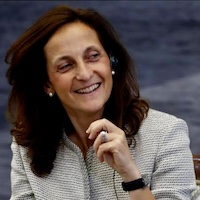 Reuters editor-in-chief gave the agency's journalists "immense thanks, admiration and gratitude" and said "The world is in your debt."
Five weeks since the attack by Hamas on Israeli territory which unleashed the conflict in Gaza and in parts of the region, the war is taking a toll on Reuters newsroom, Alessandra Galloni (photo) told staff on Monday.
"We are grieving the killing of our colleague and friend Issam Abdallah in an attack that also injured Thaer Al-Sudani and Maher Nazeh. Our newsroom is pursuing the truth about Issam's killing, and findings will be published in due course. Colleagues around the world have family or friends who have been killed or are suffering as a result of the Hamas attack and Israel's subsequent counter-offensive. Nine of our journalists in Gaza are covering the conflict, while trying to protect themselves, and their families, from bombing. And around the world, the deliberate, careless spread of disinformation is putting our journalists at risk and attempting to sow discord among governments, society and our own newsroom," she wrote in a note.
Throughout, Reuters journalists had been unwavering in their pursuit of independent, accurate and unbiased news in the public interest. From live, spot coverage on the ground to analysis and insight from capitals around the globe, the coverage had been "urgent, often exclusive, sophisticated and crucially important to the world's understanding of this conflict".
Galloni listed Reuters top coverage and some key successes. Amongst these were years of planning in Gaza that meant Reuters was prepared for large-scale coverage including deep knowledge of the story and logistics: solar panels, batteries, fuel and food reserves that had made it easier for reporters to operate in a very difficult situation.
She mentioned unsolicited praise from major clients for the quality and speed of coverage, and the courage of Reuters reporters, consumption of Reuters video worldwide at an all-time high, and record numbers on Reuters.com.
"I want to give special thanks to our security teams on the ground, who have been working indefatigably since the start of this conflict," Galloni said. "Without you, we would not be able to deliver this important coverage to the world. I also would like to thank our entire team in Ukraine, which of course, continues to cover the war there - a nearly two-year-long conflict that is heading into another difficult winter and for which there seems to be no end in sight.
"Most often, we journalists are chronicling the lives of others. Covering a war that has destroyed your own homes and livelihood and that has taken the lives of your own families and friends requires the highest level of professionalism, resolve and commitment. Despite extraordinary pressures, you continue to uphold the principles of accuracy, fairness and independence - the time-tested values of Reuters News under the Trust Principles.
"Immense thanks, admiration and gratitude to all of you. The world is in your debt." ■