People
Bringing it all back home
Saturday 15 February 2020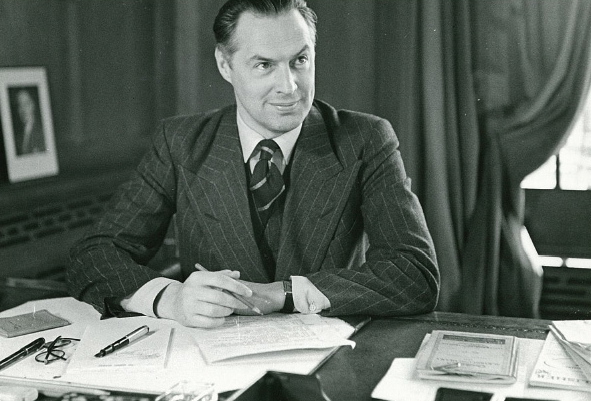 Rescuing My Father and Other Stories is a new book that recounts the later life of former Reuters general manager Sir Christopher Chancellor (photo) as he slipped into senile dementia.
Author Susanna Johnston is the sister of Alexander Chancellor who had a career as a Reuters correspondent before he became editor of The Spectator. He died in 2017.
The Daily Mail describes the book as "this charming, witty selection of vignettes and diaries from her well-connected life." It is a "quirky little book, full of unexpected details that stay with you."
Only 128 pages long, 50 of them consist of Johnston's "excoriating 1986 diary, bursting with daughterly exasperation, chronicling every detail of a trip to Cape Town to keep her father company and bring him back to England when he was suffering from senile dementia.
"It happened because the old man, although married, fancied himself in love with a widowed cousin called Mrs Mary Wedderburn, who'd got him into the habit of taking little travels abroad.
"His wife was all too happy to get rid of her demanding husband for a few months a year.
"This time, not taking Mrs Wedderburn with him, Sir Christopher had booked himself into the Mount Nelson Hotel in Cape Town for several weeks.
"Within a fortnight it was clear his brain was failing badly and he was desperate to get home but couldn't work out how to change his ticket.
"Dutifully, Susanna volunteered to fly out and bring him home. But she couldn't afford to change their plane tickets.
"So she was stuck with her toddler-like father in South Africa for weeks, in a hotel full of 'widows whose husbands had owned hotels on the Isle of Wight'."
She was stuck with his constant fretting and repetition of memories and questions. In the baking heat, he insisted on wearing a winter hat, grey tweed and thick socks.
Sir Christopher, general manager from 1944 to 1959, died in 1989. ■